The Chevrolet Impala is a great alternative for anyone looking for a classic American automobile. It's not just one of the most popular models ever manufactured, but there are so many of them left that it's practically difficult not to find one to suit any taste. Americans can get Impalas in bad shape, abandoned in fields and barns, mildly rusted ones that get some TLC now and then, restored beauty, or fully customized versions designed to win honors.
The one we have here sits somewhere between a restored beauty and a mild custom. It's an example from 1963, meaning it's part of the breed's third generation, the first with the B platform and a new body styling.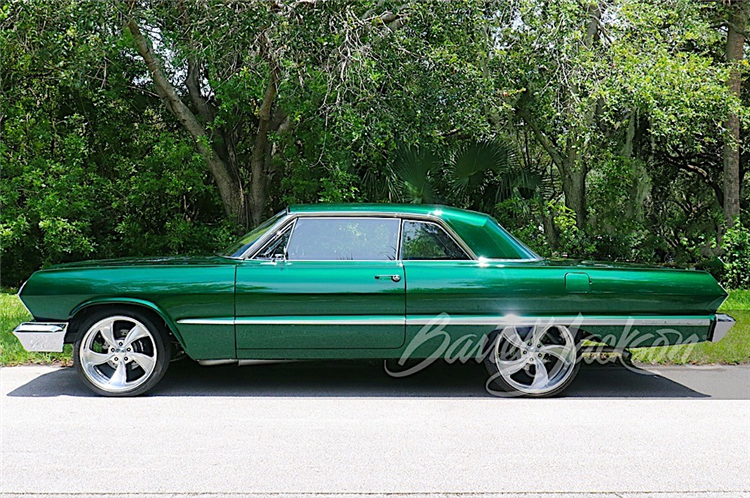 We've seen a lot of Impalas in all of the states mentioned above, but this is one of the cleanest and most closely shaved ones we've seen in a long time: the firewall, keyholes, emblems, window wiper cowl, and wipers themselves are all gone or smoothed for a soft look. This results in an extraordinarily clean body that is enhanced by the unusual Kandy Organic Green color sprayed all over it. Fresh chrome pieces contrast and complement the House of Kolor green while seamlessly merging into the overall design.
The clean body is supported by Intro Twisted Vista billet wheels of undisclosed size and Pirelli P Zero tires. Beneath it hides what appears to be an unassuming interior made by Chevy specialist Ciadella. But that's only a wrong impression, as the modern touches like the factory-powered front bench with built-in seat heaters and new foam are included in the package.
The dashboard holds Dakota Digital gauges, and the odometer shows 2,100 miles (3,400 km) of use since restoration work was completed. Those miles were traveled under the power supplied by a 5.7-liter LS1 engine tied to an automatic transmission.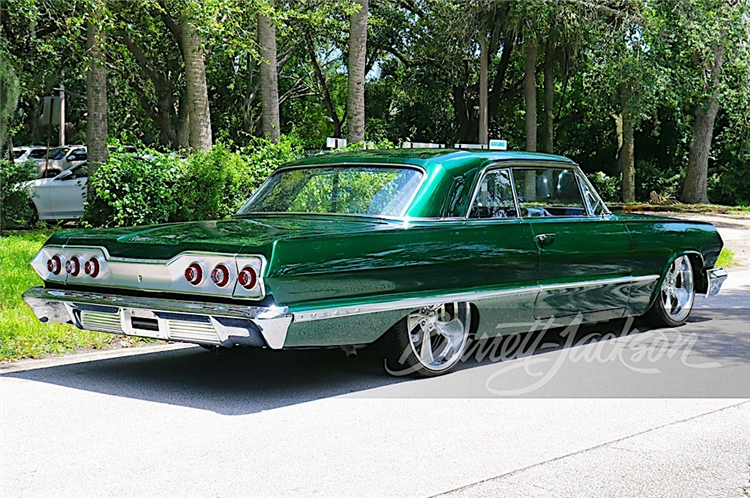 The new engine isn't the only mechanical change done. A Ridetech air suspension system, which is not visible to the human eye, lowers and lifts the car as needed, while Wilwood braking gear is on hand for stopping force. The secret group behind this project is said to have spent four years putting the Impala together. It is presently up for sale at the Barrett-Jackson auction in New Orleans at the end of the month.
No estimate is made as to how much it is expected to fetch, and it will be selling with no reserve. For reference, a Concours condition Chevrolet Impala from 1963 is estimated by valuation company Hagerty at around $50,000.
We'll keep an eye out for this one and update as soon as we learn how far from that estimate it eventually lands.