The Plymouth Barracuda was introduced in 1964 as a pony car and was revised twice before being retired in 1974. The second-generation A-body, introduced in 1967, gained a sportier appearance as well as larger, more powerful V8 engines, notably the 383-cubic-inch (6.3-liter) big-block. The Barracuda didn't become a full-fledged muscle vehicle until the third generation debuted for the 1970 model year.
Moved on the E-body platform, shared with the first-generation Dodge Challenger, the 1970 Barracuda was meaner and sleeker. In addition, Plymouth finally allowed custom to opt for the range-topping 440-cubic-inch (7.2-liter) RB and 426-cubic-inch (7.0-liter) HEMI V8s. While the 440 was offered on a limited-edition Barracuda in 1969, the HEMI was previously used on a factory-built drag car only.
With all of these new features, Barracuda sales increased from nearly 32,000 units in 1969 to nearly 49,000 units in 1970. Unsurprisingly, the majority of owners chose the less expensive small-block V8 alternatives. Nonetheless, over a fifth of all Barracudas sold that year were equipped with big-block engine. With over 9,000 units sold, the 383-cubic-inch B-block was the most popular option. The 440 RB received 986 orders with a four-barrel engine and 2,784 orders with a six-barrel engine. Finally, Plymouth sold 666 specimens with the powerful 426 HEMI V8.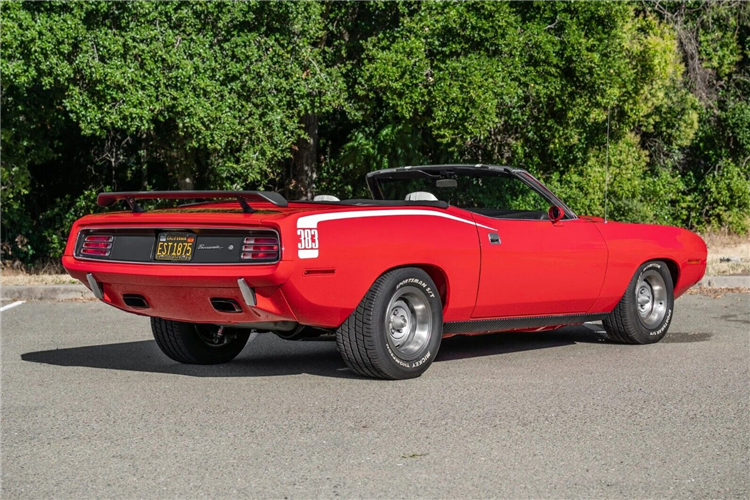 But the big-block Barracudas aren't the only rare iterations of the first-year third-gen model. Convertibles are also scarce. This body style wasn't exactly popular at the time, and Plymouth ended up making only 2,501 vehicles. That's only 5.1% of the total production for the 1970 model year. The red-over-white example you see here is one of those cars.
Granted, it's not a particularly rare HEMI model limited to only 14 units. It's also not a 440 version. In fact, this 383-powered Barracuda drop-top doesn't even have a matching engine under the hood. Furthermore, there is no information about the mill it received from the factory. However, it is extremely rare in any case.
In 1970, Plymouth released three versions of the Barracuda convertible. The Barracuda was the entry-level model, followed by the more luxurious Gran Coupe and the performance-oriented 'Cuda. This one has a "Barracuda" insignia on the back fascia, indicating that it is one of only 1,387 manufactured in this specification.
The Barracuda Convertible could only be equipped with three engines. It came standard with a 225-cubic-inch slant-six and was optionally available with 318-cubic-inch and 383-cubic-inch V8s. If this Barracuda received a replacement 383 for a similar stock engine, it's one of 59 cars equipped with the two-barrel mill or one of 59 cars ordered with the four-barrel mill. Only 36 were equipped with an automatic transmission, much like this one.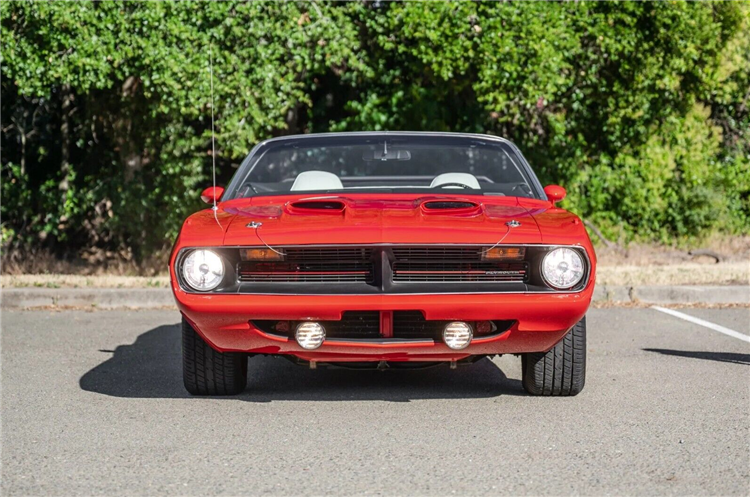 Even if it didn't come with a 383 V8, it's still a remarkable find. This is due to the fact that Plymouth only sold 223 slant-six cars and 1,046 318 V8 versions. But, regardless of what was beneath the hood when it was new, this drop-top is a fantastic-looking rig with the ideal color combination. No, it doesn't have a High-Impact color, but the red exterior is almost as eye-catching. The white "383" fender stripes, as well as the white/black interior and white soft top, add a nice contrast.
And here's the even more interesting thing about this 1970 Barracuda Convertible. Even without a numbers-matching V8, a High-Impact color, and accurate mileage information, people rush in to place bids on it.  This car is the perfect proof that early 1970s Plymouth Barracuda Convertible prices are going wild regardless of engine/transmission combo and colors.