By the end of the century, SUVs will likely completely replace full-size automobiles, but these vehicles were highly well-liked in the past. More precisely, between 1955 and 1965, Chevrolet sold almost a million full-size cars every year. Yes, I am referring to the renowned Tri-Five, Bel Air, and Impala.
These nameplates are regular findings in barns and junkyards, but they are also among the most sought-after classics of today. It's not surprising at all that there are still millions of them out there. And whereas the Bel Airs and Impalas are frequently saved and rebuilt, the less-trimmed Biscaynes end up as parts donors or rust buckets.
Simply because the current value of an entry-level Chevy is lower than the investment needed to restore one. And that's an issue associated with many once sparsely equipped and affordable classics, not just full-size Chevrolets. But you know what? Some of these spartan rigs are actually rare. The two-door wagon you see here is a unicorn many of us will never see in the metal.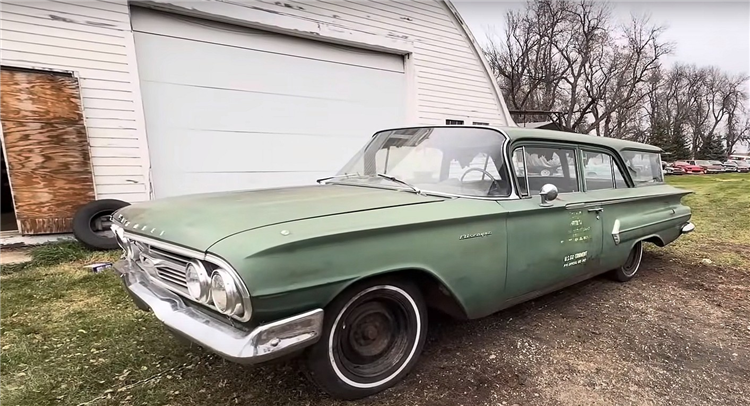 Why is this 1960 Chevy such a unique sight? To begin with, it's a station wagon with two doors. The Tri-Five era saw the rise in popularity of this body type. Chevrolet had three trim levels available at that time: the 150 Handyman, 210 Handyman, and Nomad. Compared to other Tri-Fives, all three are more uncommon. One of the rarest and most valuable Chevys of the era is the Nomad, which is also quite rare.
In 1958, the two-door wagon was still in use but was rebranded as the Yeoman and assigned to entry-level work. The two-door wagon was still sold in showrooms under the Brookwood brand when Chevy revamped its full-size lineup for 1959. After 1960, the body type was documented in history books.
In addition to being a short-lived configuration, the two-door wagon is also scarce by production numbers. Chevrolet sold nearly 52,000 grocery-getters from 1958 to 1960. It may sound like a lot, but that's 52,000 units out of four million full-size rigs delivered over the same period. Or just 1.2% of the total production. And far fewer examples are still around since these utilitarian vehicles weren't viewed as potentially collectible cars.
This long-roofed Biscayne is one of only 14,663 two-door wagons made in 1960, the final year for this body style. But it's much rarer than the regular production grocery-getter. That's because it's an ex-government car and sports a configuration that most likely wasn't offered to the public.
Specifically, even though it looks like a regular two-door Brookwood on the outside, it has the layout of a Sedan Delivery model on the inside. And by that, I mean that it doesn't have rear seats. The area behind the front bench is a wood-lined, flat surface. In layman's terms, it's a Sedan Delivery car with side windows and a tailgate—a configuration reserved for fleet vehicles.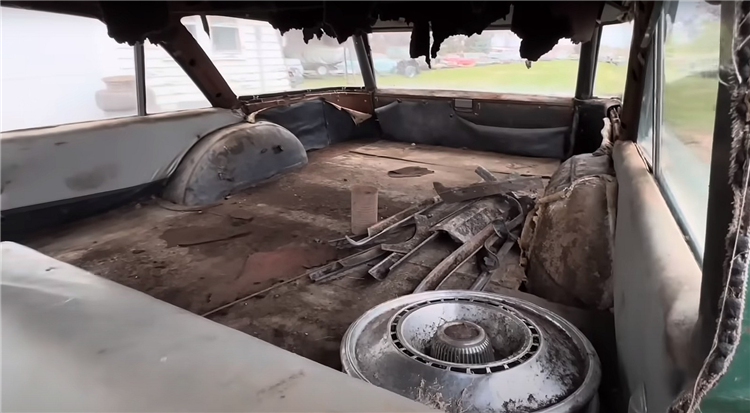 What was it used for? Well, it's unclear, but the door lettering suggests it was ordered by the US Department of the Interior and had something to do with "wildlife service." I'd say it's probably a former Forestry Department vehicle used to map parks and forest areas. The large cargo area was probably used to haul engineering equipment.
All in all, it is far more uncommon than an ordinary two-door production wagon. We're presumably looking at one of the less than 50 cars manufactured that look like it, and one of the few that are still in existence, if official statistics are any indication. Some claim that it is a true unicorn.
The wagon has been sitting for decades, so it is plainly in bad shape. The interior is a little disorganized, the floors are rusting, and some of the trim is missing. Under the hood, the original inline-six still functions, but it isn't powered on. It sounds like the kind of base Chevy that a lot of people would take to the junkyard.
But the owner of this wagon isn't willing to give up on this fleet-spec rig. He wants to give it a complete makeover and return it on the road. And following hundreds of comments he got on his channel, he wants to keep it as original as possible. I know this thing is not as desirable as a contemporary V8-powered Impala SS, but that's tremendous news in my book. Because I love old wagons and classics with a story.