It is not unusual for vintage vehicles to be abandoned in barns and fields for decades to waste away. Currently, millions of cars in the United States are in this state. For any classic, no matter how uncommon and prized, it's a tragic fate. Thankfully, though, some are spared and are able to return to driving. Among them is this 1962 Chevrolet Biscayne.
The Biscayne, which debuted in 1958, served as Chevrolet's flagship full-size vehicle until 1975. It was the most affordable full-size model starting in 1959, placing it below the slightly more expensive Bel Air and the top-of-the-line Impala and Caprice.
The Biscayne was quite popular at the time due to its low price, but it's nowhere near as desirable as the Impala nowadays. And that's mostly due to its lack of exterior trim and fancy interior features.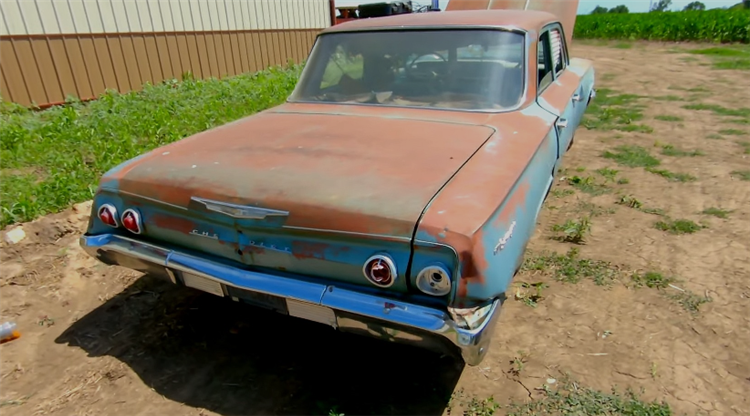 As a result, many Biscaynes have been abandoned in junkyards or left fully exposed to the elements in backyards. And it's a shame really because the Biscayne is just as elegant as the Impala overall, but that's how the classic car cookie crumbles.
Although Impalas are frequently saved, Biscaynes are typically utilized as donor vehicles. That is, if they are fortunate enough to avoid being crushed. Thanks to some extraordinary good fortune, this 1962 Biscayne was saved from the farm field it had been abandoned for over 40 years.
As of 2022, this four-door sedan has been off the road for an incredible 43 years, having last been registered in 1969. Regretfully, it was only driven for seven years before being parked outside in the open without a roof.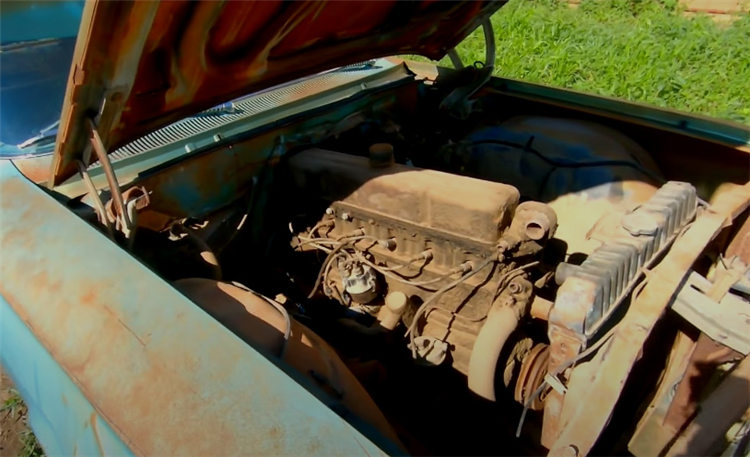 Remarkably, though, it's in excellent shape considering that it was exposed to the elements for over forty years. Yes, there are dents in the body, the front end has some damage, and some of the turquoise paint is gone, but overall, it's a wonderful, all-original survivor that would be well worth restoring.
That is, if you don't mind not having a V8 under the hood—this Biscayne is a fine inline-six mill. At just 135 horsepower, the Blue Flame is certainly nothing special, but at least the numbers match. And, astonishingly, with a little effort, it springs back to life.
Needless to say, this Biscayne is far from being road-worthy as is, but it's fantastic that the engine still runs and that the car itself is still in one piece after 43 years in a field. Check it out in the video below.